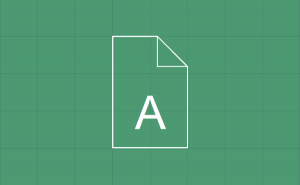 Plot styles are essential to the presentation of a draftsman's design to place emphasis on the elements of the design that is of importance.
Configuring these settings in your CAD software and save for future use can be very handy, especially when working with files that have equipment and furniture layout on them that you may not want to show on your fire alarm design.
Sooner rather than later in your design phase these types of files with multiple trades design layout on them will need to be clean up to accommodate your fire alarm design. By creating a plot style to handle such situation will enhance your work and give it a professional look and make it a lot easier for the person reviewing it.
Creating and setting up Plot style
There are two ways to accomplish this task one is by configuring the plot style setting from the control panel of your computer while the second way is accessing the plot style setting from within your AutoCAD software. Both procedures will navigate to the files you need to edit and accomplish the same task in the end.
Let's dive into setting up our new plot style. First, navigate to your computer's control panel and find the Autodesk Plot Styles Manager and open it. Now, find the file monochrome.ctb then copy and rename it. Alternatively, if you have your AutoCAD software open go to File> Plot Style Manager and follow the steps above.
To configure your plot style for AutoCAD to apply during plotting, open the new file you've created and you will see something similar to the image below.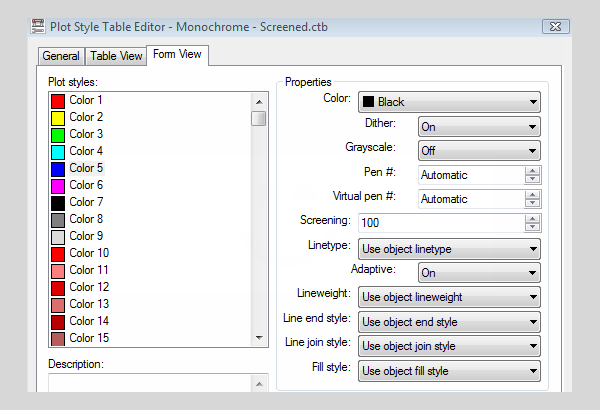 From the tabs at the top, select Form View and you will see the different setting for each color within AutoCAD and their properties. Select the color from the right in which you'd like to use to show less emphasis on your design and assign properties to them to the left.
Important Note: Within AutoCAD there are seven native colors, but there are a total of 225. What this means is that all the other colors are derived from the native one which is colors 1 through 7. Colors 1, 5 and 7 plots dark on paper with number 7 the darkest followed by number 1 and 5. The remaining four colors will plot light on paper.
Now with a better understanding of how colors work and the way they plot on paper, you can assign any native color under plot style settings to represent objects with less emphasis on your design and set their properties to any of the four colors (2, 3, 4 and 6) that plots light on paper.
Once you've gone through the above steps, save your new settings and it will appear among the default plot styles that comes pre installed with AutoCAD.